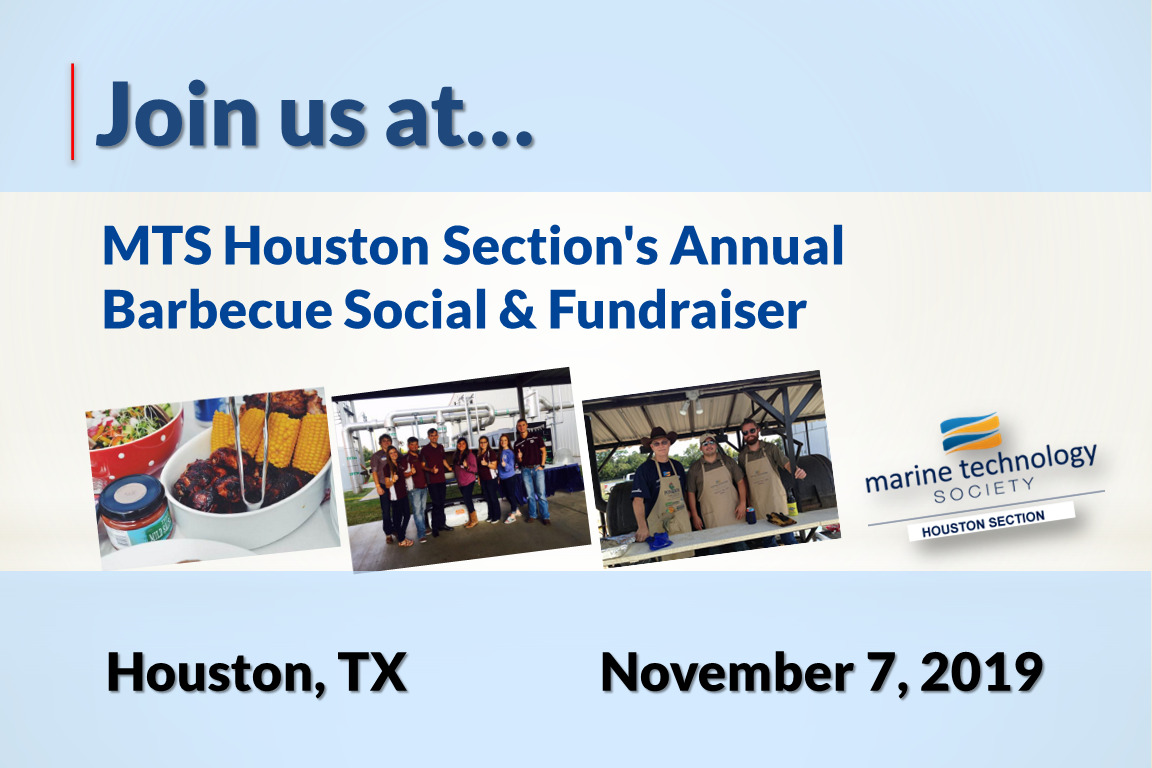 Sponsoring
DeepWater Buoyancy is co-sponsoring and exhibiting at the Annual MTS Houston BBQ.
The event will take place on Thursday, November 7th.
This year's event will be hosted by Ashtead Technology Offshore, Inc
About the Event
The Houston Section of the Marine Technology Society, the largest Section of the Society, will host its Annual Barbecue Social and Fundraiser on November 7, 2019. This annual event has become a much-anticipated tradition along the Gulf Coast, attracting around 600 to 800 offshore industry professionals and their guests. The Barbecue is open to anyone wishing to attend.
Hosted By
Ashtead Technology Offshore, Inc.
14825 Northwest Freeway, #900
Houston, TX 77040
Phone:( 281) 398-9533
https://www.ashtead-technology.com/
Program
3:00 PM – Exhibitor Set up – arrive no later than 4:00 PM
4:00 PM – Registration & Food service for Exhibitors
5:00 PM – General Registration begins
6:30 PM – Food Service begins for attendees
7:15 PM – Announcements
7:30 PM – Silent Auction ends
8:30 PM – Evening Concludes
Networking Opportunities
This relaxed and casual environment is your opportunity to connect and mingle with a variety of industry members.
Exhibitors
Some 80 exhibit tables are available to companies associated with the offshore industry where you can to display your technology and products to prospective customers. This year there will be 5 Test Tank Exhibitors to demo your equipment in the test tank. A Silent Auction will include a wide variety of donated items along with autographed sports memorabilia provided by Diamonds in the Rough.
Fundraising
As the Section's leading fundraiser of the year, the money raised supports the Section's vibrant scholarship program. Each year, the Houston Section donates around $160,000 in scholarships and student support. Close to 100 students attend from local universities and a scholarship award program will take place the evening of the Barbecue. There is even a section of the Barbecue allocated to local high school robotics clubs where their robotics are on display.
Have Questions? Interested in Sponsorship or Exhibit Opportunities, contact Melissa Wood, melissawood@tdi-bi.com, 713-208-1734.
Learn more and register HERE

About MTS
The Marine Technology Society was incorporated in June 1963 to give members of academia, government and industry a common forum for the exchange of information and ideas. The guiding purpose is:
"To promote awareness, understanding, advancement and application of marine technology."
Today, MTS is a growing organization, boasting a membership of businesses, institutions, individual professionals and students who are ocean engineers, technologists, policy makers and educators.
MTS Mission
Facilitate a broader understanding of the relevance of marine technology to wider global issues by enhancing the dissemination of marine technology information
Promote and improve marine technology and related educational programs
Advance the development of the tools and procedures required to explore, study and further the responsible and sustainable use of the oceans.
MTS's long-range vision is to be:
"The leading authority and advocate for marine technology and resources while promoting member success and public understanding."
About DeepWater Buoyancy, Inc.
DeepWater Buoyancy creates subsea buoyancy products for leading companies in the oceanographic, seismic, survey, military and offshore oil & gas markets.   Customers have relied on our products for over forty years, from the ocean surface to depths exceeding six thousand meters.
Learn more at www.DeepWaterBuoyancy.com