DeepWater Buoyancy, Inc. announced the delivery of a significant follow-on order of diver-serviceable bottom mounts for one of the world's largest fish farming companies.  The bottom mounts are set on the seafloor at a depth of 50 to 100 meters and allow for the proper deployment of ADCPs to monitor the environment around the fish farm cages.
ADCP's are used in aquaculture applications in order to monitor currents and waves for the following main purposes:
Investigate new fish farming areas
Monitor currents when feeding in order to minimize feed loss
Monitor fish waste for pollution plumes
The order was secured by DeepWater Buoyancy's UK representative, Saderet Ltd.  Saderet is the exclusive distributor of DeepWater Buoyancy products in the UK.  Saderet also represents Teledyne RD Instruments, makers of the Sentinel V50 ADCP, which was chosen for this application.
DeepWater Buoyancy, Inc.'s recently retooled BTM-AL50 diver-serviceable bottom mount line is equipped with a two-axis gimbal to mount an ADCP, clamps for a remote battery housing, and zinc anodes for corrosion resistance.  The three articulating footpads are provided with standard urethane-coated ballast, with additional ballasting provided for this application.
The client was pleased with the performance, delivery, and quality of the equipment supplied in the first order, as well as the ongoing technical support provided by Saderet, DeepWater Buoyancy and Teledyne RDI.
About Saderet Ltd.
Saderet Ltd. specialize in the supply of survey and positioning equipment and services to a wide variety of markets including marine and land survey, GIS, oceanography, precision agriculture, and OEM. Presenting some of the best manufacturers of survey related equipment in the world, we deliver products worldwide.
About DeepWater Buoyancy, Inc.
DeepWater Buoyancy creates subsea buoyancy products for leading companies in the oceanographic, seismic, survey, military and offshore oil & gas markets.   Customers have relied on our products for over thirty-five years, from the ocean surface to depths exceeding six thousand meters.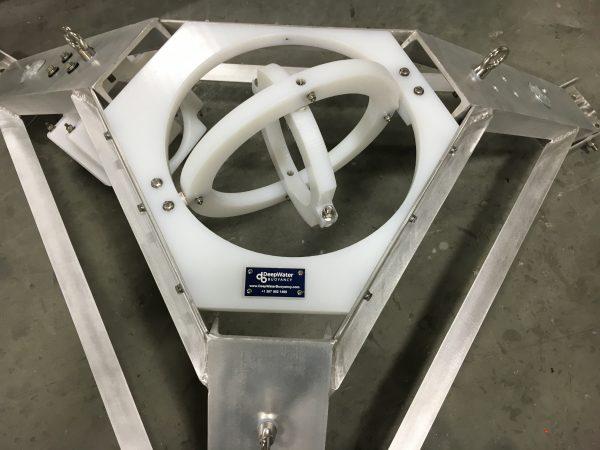 Save