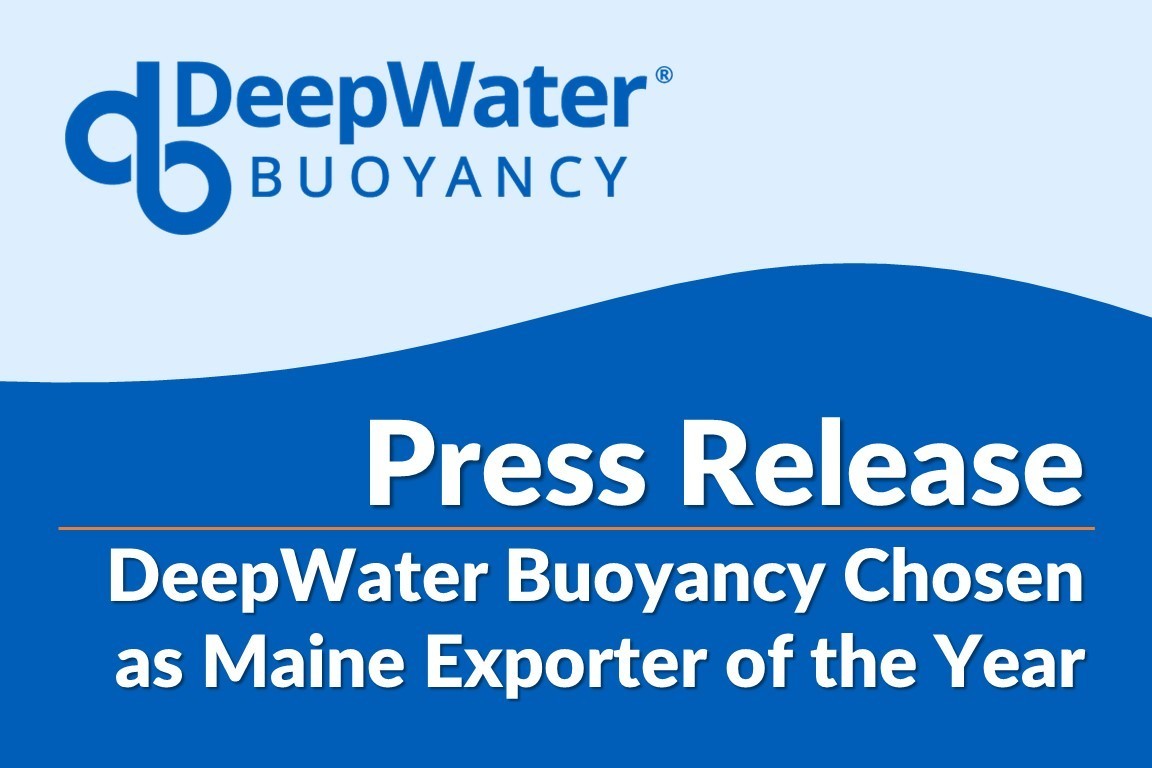 Award Announced
The Maine International Trade Center has selected DeepWater Buoyancy as the Maine International Trade Center 2022 Exporter of the Year.
The Exporter of the Year Award is presented to a manufacturer that has demonstrated an ongoing commitment to international trade through increased exports.
Announcement
DeepWater Buoyancy designs, engineers, and manufactures subsea buoyancy products for oceanographic, offshore oil & gas, and technology companies around the world.
Company Co-President & Director of Business Development David Capotosto explained, "Anyone that wants to put something heavy at the bottom of the ocean and get it back someday, probably needs us." About 35% of what they produce is exported to more than 40 countries around the globe. When the pandemic slowed oceanographic research and shut down international trade shows in 2020, the company pivoted to robust digital marketing efforts to reach new customers and has recently partnered with a company in the UK to establish business in the growing offshore wind industry.
"For a small Maine company of 25 people to be doing business all around the world, your entire team has to be firing on all cylinders. We have a lot of experience in international markets, and 2021 ended up being one of our strongest years. It's an honor to be among the great Maine companies who have been named Exporter of the Year," said Mr.Capotosto.
The award was given as a part of the annual Maine International Trade Day.  Learn more HERE
As a part of the award ceremony, a video was produced.  The video showcases DeepWater Buoyancy's history, team and products, while highlighting the international aspects of the business.

DeepWater Buoyancy has a robust network of representatives and agents throughout the world. Click on the image to find a representative in your region.

About DeepWater Buoyancy, Inc.
DeepWater Buoyancy creates subsea buoyancy products for leading companies in the oceanographic, seismic, survey, military and offshore oil & gas markets.   Customers have relied on our products for over forty years, from the ocean surface to depths exceeding six thousand meters.
Learn more at www.DeepWaterBuoyancy.com