Announcement
DeepWater Buoyancy is proud to announce that it is now a Major Partner in support of the Nautilus Exploration Program, an ocean research program led by the Ocean Exploration Trust and its president, Dr. Robert Ballard. 
As a partner, DeepWater Buoyancy will provide buoyancy expertise and engineering, as well as buoyancy products for ongoing expeditions.
DeepWater Buoyancy & Subsea Research
DeepWater Buoyancy designs and produces an extensive line of subsea buoyancy and related products for subsea research.   At the heart of that ocean science product line are the subsurface ADCP buoys.  These buoys, originally developed for Teledyne RD Instruments' ADCPs, are considered the gold standard within the industry.  Consisting primarily of both spherical and elliptical buoys, the product line also includes the unique StableMoor® Mooring Buoys.  These torpedo-shaped buoys are engineered to house ADCPs and other sensors for high current data collection applications.  By design, the StableMoor® reduces drag and increases mooring stability in extreme flow regimes, thereby producing superior data sets.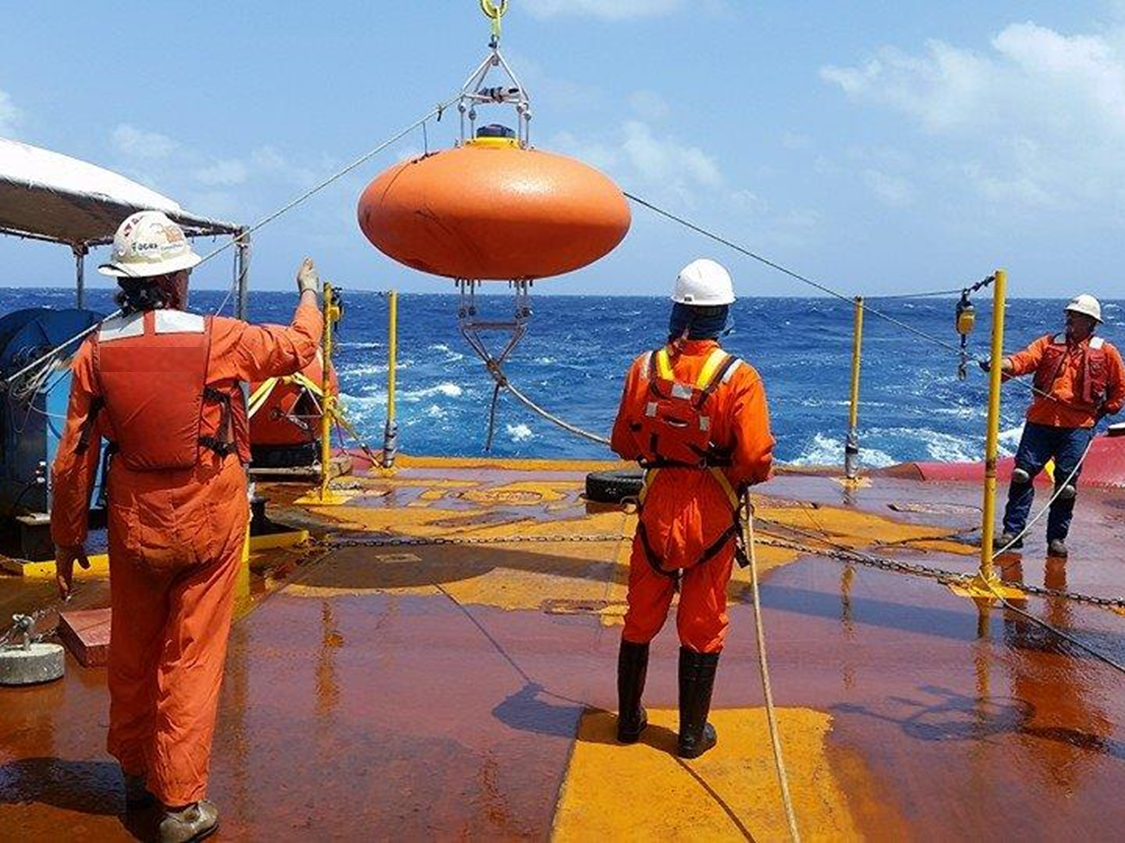 However, DeepWater Buoyancy's product line goes well beyond ADCP buoys.  There are bottom mounts, instrument collars, and cable floats.  Also, there is a full line of installation blocks, modular buoys, and ROV buoyancy.  In addition to DeepTec® syntactic foam products and custom-engineered components, there are also plastic, composite, polyurethane and fabricated metal products for use subsea.
If a client can't find their ideal solution in the product line, DeepWater Buoyancy will design and produce a custom product.  The company's design philosophy is, "A customer should have a product that meets the application, and not be forced to adjust their application to an off-the-shelf product."  Whether that is modifying an existing design or starting with a blank sheet of paper, the goal is to produce the finest, most cost-effective solution for any given application.
Ocean Exploration Trust Mission
The E/V Nautilus is operated by the non-profit organization Ocean Exploration Trust, founded in 2008 by Dr. Robert Ballard to engage in pure ocean exploration. Its international programs center on scientific exploration of the seafloor and many of the expeditions are launched from aboard Exploration Vessel (E/V) Nautilus, a 64-meter research vessel operated by the Ocean Exploration Trust. In addition to conducting scientific research, they offer expeditions to explorers on shore via live video, audio, and data feeds from the field. They also bring educators and students of all ages aboard during E/V Nautilus expeditions, offering them hands-on experience in ocean exploration, research, and communications.
Nautilus Live
Follow the expeditions live online and learn more about the Nautilus Exploration Program at www.nautiluslive.org
About DeepWater Buoyancy, Inc.
DeepWater Buoyancy creates subsea buoyancy products for leading companies in the oceanographic, seismic, survey, military and offshore oil & gas markets.   Customers have relied on our products for over thirty-five years, from the ocean surface to depths exceeding six thousand meters.
Learn more at www.DeepWaterBuoyancy.com