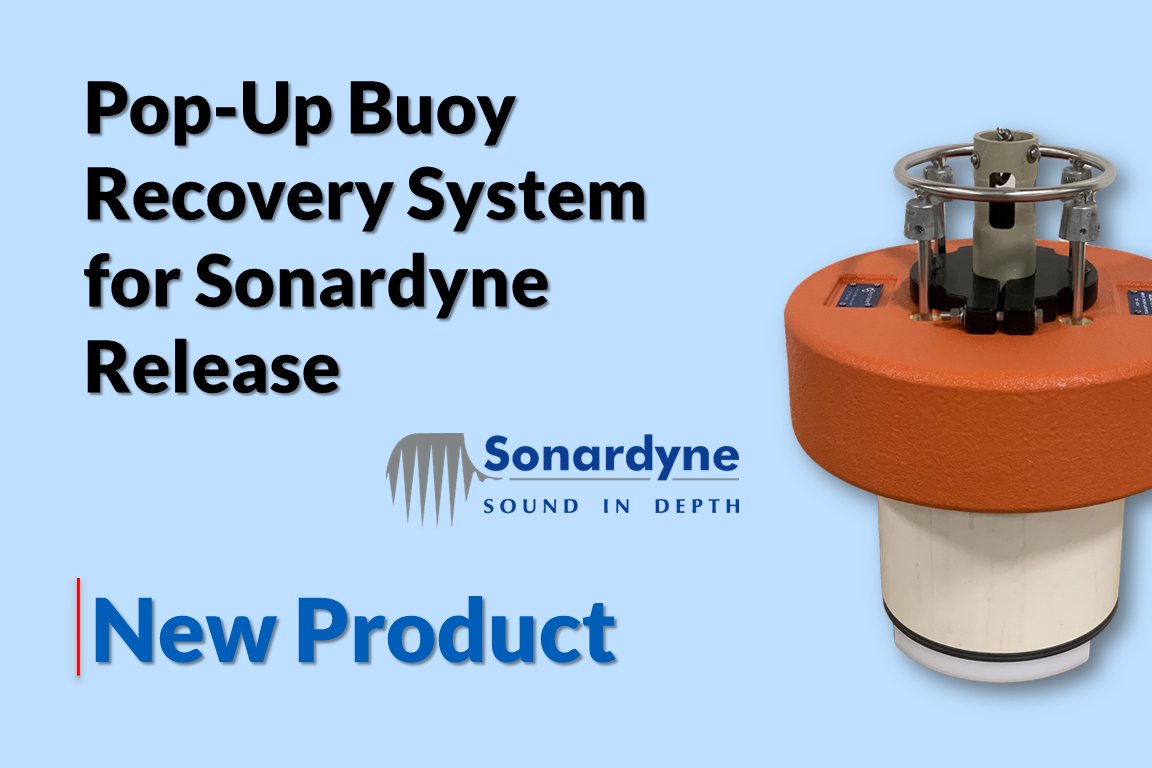 Announcement
DeepWater Buoyancy, Inc. announces that it has developed a new Pop-Up Buoy Recovery System (PUB) for the Sonardyne LRT Acoustic Release. The product was developed at the request of Fugro GB Marine.
Like the original product, the new PUB allows for direct retrieval of seabed packages, such as anchors, anchor lines, and bottom-mounted frames and instruments.
Pop-Up Buoy Product Details
Easily mounted to any framework, the assembly sits on the seafloor until the acoustic release is activated. Once the release completes its disconnection, the buoy lifts free from the canister and rises to the surface. A synthetic line connects the buoy directly to the framework of the seabed item and allows for retrieval.
The buoy is outfitted with an electropolished 316 stainless steel frame.  The canister holds 75 meters of 1/4″ synthetic line. (Other line lengths are available upon request.) The recovery buoy is made from high-strength DeepTec® solid syntactic foam. The foam is finished with an abrasion-resistant, polyurethane elastomer coating.
The canister is made from PVC. It has a rugged design and has attachment features to permit various mounting configurations, including easy mounting to our BTM-AL50 tripod bottom mounts.
To learn more about the PUB – CLICK HERE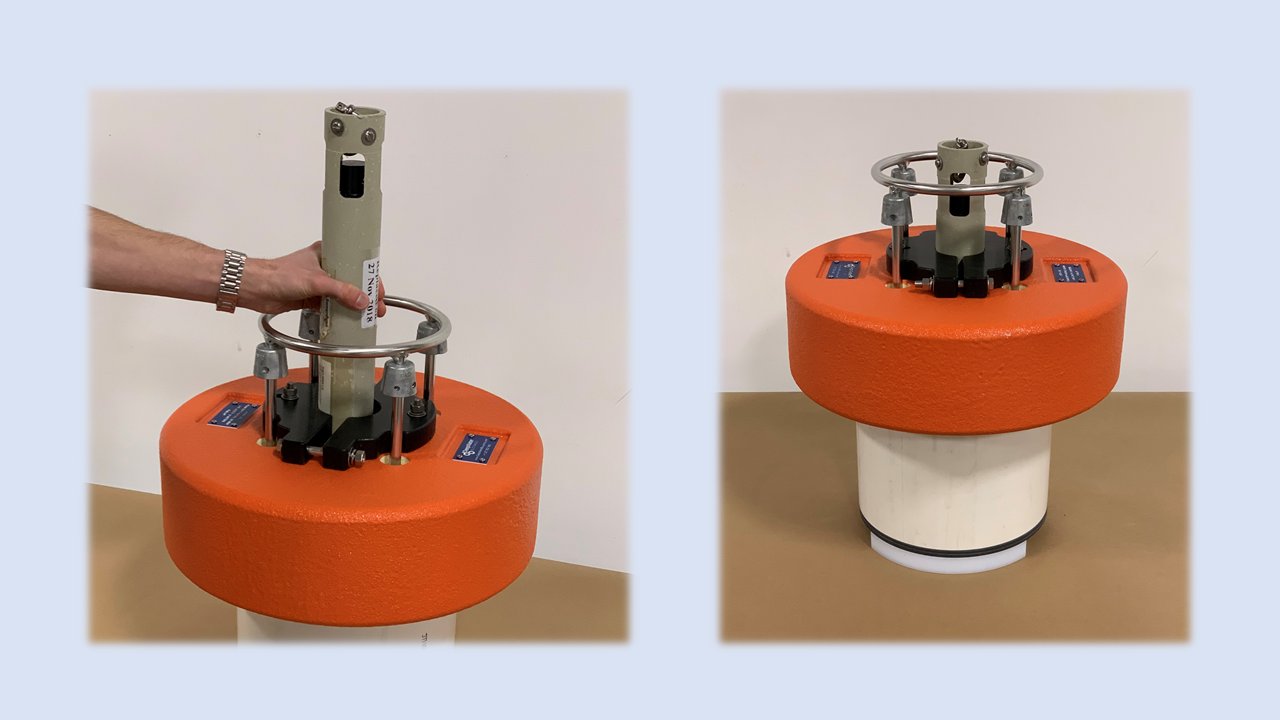 Acoustic Release Product Details
Sonardyne's Lightweight acoustic Release Transponder (LRT) is depth rated to 500 meters making it the ideal choice for deploying and recovering seafloor instrumentation and equipment in continental shelf waters.
Field replaceable alkaline or lithium battery packs give a listening life of 18 months and 51 months respectively. A "screw-off" release mechanism ensures a positive release action that overcomes any biological growth and all external parts are made of high strength plastics that provide excellent environmental corrosion resistance.
LRTs are controlled using a deck unit and remote transducer on 10 meters of cable. The deck unit is initially used to program the acoustic identity of the LRT, test the transponder and load the release nut prior to deployment. Once deployed, the deck unit can measure ranges to the transponder and prior to sending a secure release command, relocate the transponder. The deck unit can be controlled via RS232 enabling raw range data to be logged to a PC.
Unlike similar low-cost release transponders It has both receive and transmit functions, enabling accurate slant ranges to be measured, release actuation to be confirmed and its position to be accurately determined.
The transponder is also compatible with Sonardyne's ROV-Homer and Homer-Pro target relocation systems. Deployed at a point of interest, the LRT can be interrogated weeks or years later to provide range and direction guidance to a ROV pilot or diver wishing to home back on to it.
To learn more about the LRT – CLICK HERE

About DeepWater Buoyancy, Inc.
DeepWater Buoyancy creates subsea buoyancy products for leading companies in the oceanographic, seismic, survey, military and offshore oil & gas markets.   Customers have relied on our products for over thirty-five years, from the ocean surface to depths exceeding six thousand meters.
Learn more at www.DeepWaterBuoyancy.com
About Sonardyne
We are a leading independent global provider of underwater acoustic, inertial, optical and sonar technology and this is what we do. We track, we position, we control, we monitor, we detect, we recover, we image, we locate, we navigate, we avoid, we engineer, we service and we support. We can do this for you, wherever you are operating in the world, safely and responsibly, within your budgets and to your timescales. Find out how by getting in touch with us today.
Learn more at www.sonardyne.com